A quick review of my current favorite product from Etude House! It's the Oh~ m'Eye Lash Curling & Clean Mascara. When I was years younger, I really didn't put much attention on using mascaras whenever I go to occasions. I used to have them on only when applied by the make-up artists; so,the usual foundation, make-up bases, blush-ons, lipsticks, glosses, and eyeshadows & liners were my only interests way back then! :D So, this would actually mean my very first, intentionally bought, eye mascara.
Yehey! :))
This is the mascara applicator. As most of you may know, Etude House offers a couple of types of Oh~ m'Eye Lash Mascaras, but this one has gotten my attention most than the rest because of this really lovable wand! I thought I needed something that would give full coverage of my eyelashes. It has this regular thickness basally and a little bend over there at the end. What I like about this brush is the fact that it holds on to my eyelashes the way I wanted. The bent end makes it easy for me to make the tip of my eyelashes be emphasized more by going over them for a couple of times, like three times or so. Managing the lower lashes is easy for me as well. :)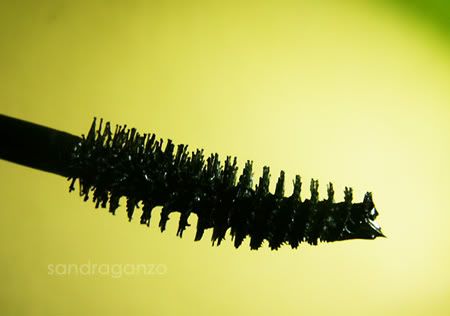 I swiped it twice in this photo, but if you want to make it more emphasized, try swiping it for three times or so. Its duration is long enough and the effect hasn't changed after the party I attended to! It has some minimal tendency to be worn out though, but for its price, this really is a good buy!