Missy BonBon Breadshop
Saturday, October 06, 2012
My brother-in-law recently visited Cagayan de Oro for work and it's a usual drill for anyone, I believe, to give pasalubong for their loved ones whenever they're out of town. :D

Bro-in-law brought with him Missy BonBon pastries!♥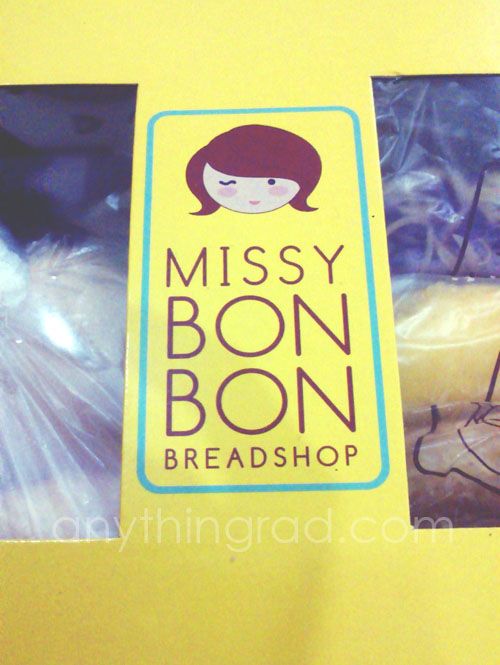 Here's their "pasalubong box". I like the packaging very much. So simple yet really attractive in my eyes!♥ The use of pastel colors really brought the cute vibes in it. It looks clean and purdy at the same time. Perfect for Missy Bonbon image. :)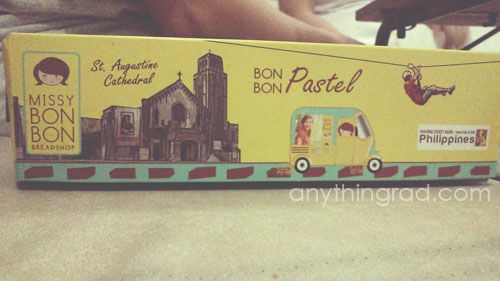 Their vision is to be a hip, cozy, relaxed, world class artisanal breadshop serving freshly made bread with fusion of local bread products, gourmet comfort food, custom gelato mixes, and a selection of brewed coffees.
It seems that they have met their vision perfectly
. ;)
Their Bonbon Pastel is a must-try. It has a soft bun with filling that is not too sweet unlike other pastels I've tried. :) Bro-in-law also bought ube, cheese, and mocha sponges. I ate some pastel and cheese sponge and I loved them. They have good dough constistency and the bread quality is really good. Truly, world class.
Missy BonBon Breadshop is in Cagayan de Oro. For more information, do check their website:
MissyBonBon.Com