Over Blossoms
Saturday, November 17, 2012
The first week of my last semester as a pre-med student sure was crazy! First, I had to deal with my schedule. One of my major electives got dissolved, hence I need to go through a process called Change of Matriculation so that I can switch subjects. I thought I'd graduate in this university without having enrollment problems but no... I was not spared from such a thing. Maybe UPM thought I need to get a taste of stress from enrollment before graduating. LOL. So here's my revised schedule ~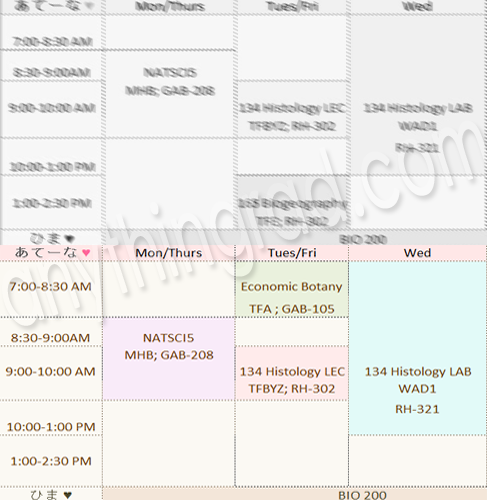 What can you say? I believe the revised one is better than the first schedule I got. I would be dismissed as early as 10 except on Wednesdays where I'd be dismissed at 1 in the afternoon. Definitely got a rejection but didn't miss the redirection along the way. I'm very thankful to God!♥ Everything turns out for the best as always.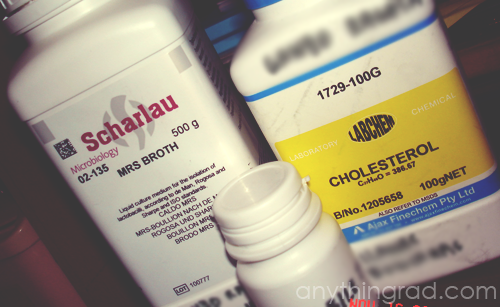 Second is thesis. Oh yes, the gruesome part of becoming a graduating student which is thesis. That basically gives you the hint whether you would graduate or not. Our goal is to buy our thesis commodities and do our experiments before Christmas break. It was no easy task to find these reagents namely MRS broth, oxbile and cholesterol. We had to call a couple of companies just so we can get our items. Thankfully, my thesis partner and I were able to get contacts. Such a pain in the pocket though. Goodbye moolah~ *$$$*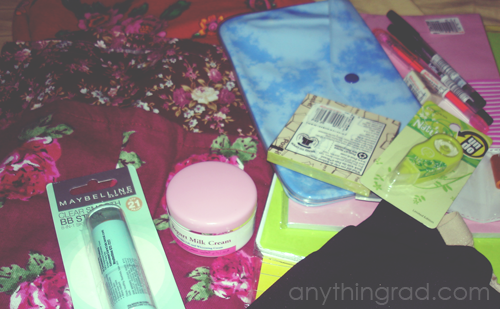 In preparation for the upcoming weeks, I bought some school supplies. That was my only goal when I went to the mall. But as I passed by the department store, I wasn't able to help myself from buying new clothes and other personal needs.♥ Hihi.
Lastly, I had a change of hairdo. Some people advised me to let my hair grow longer, but I still had the last say. It was a spontaneous thing actually. I didn't really think about it. As soon as I entered Trinoma, my feet brought me to David's Salon and tada!
I enjoy being spontaneous. I always say that
I live my life
the way I want it. I'm happy as far as I know. :)
BTW, that's my look of the day.♥ I entitled this look at Lookbook as
Over Blossoms.
The look rightfully speaks for its title, but it has a deeper, more personal meaning. As much as possible, given the amount of works in a limited amount of time, I don't stress myself out. I keep calm and happily go with the flow... just like the fragrant blossoms in the field that constantly keep pace with the wind. Even if the wind gives them mechanical stress, they calmly sway along. They seem to be happy as they are, aren't they?
Til then~