If you think your friends would like this too, I'd love you to share it! Thanks!♥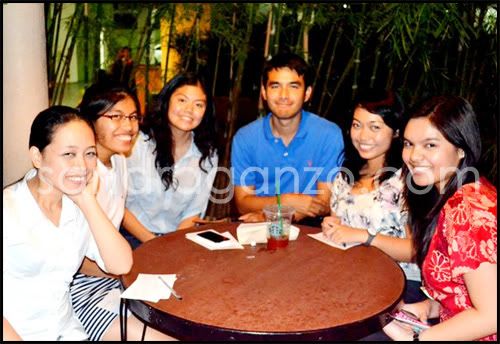 It happens once in a blue moon to meet credible personalities around, and fortunate enough, we got the opportunity to interview one of the most promising journalists of this generation, Mr. Atom Araullo — journalist, activist, and a fellow Isko. Getting to know more about him is quite fascinating for: one, he answers well that you can very much see how well-rounded a person he is; two, he can crack jokes that are still substantial, meaning you can still learn something from the humor he delivers; and three, he's a very down-to-earth person. His way of thinking and life principles are very inspiring, and for me, that is something that made me look up to him the moment our interview was over. #trulyaninspiration.
On another note, Sis Yesha tagged me! So here's 10 things about me.
Rules:
-Each tagged person must post ten things about themselves.
-You have to choose and tag ten people.
-Go to their blogs and tell them you tagged them.
-No tag backs.
-Have Fun
I do not eat seafood except mussels, shrimp, and fish, though I really don't have an allergy for them (ie crab)
I have a HUGE liking for jdoramas/kdramas/tdramas or yes Anything about Asian Dramas! XD There's no single day that I don't watch at least an episode of any drama. Yes, even if there's an exam the next day. lols!
I'm very fond of roaming and trying out beauty products when I go to malls (and usually end up buying something from Korean cosmetics)
Dancing and singing are my two hobbies I'm really into.
I have three towels when I take a bath — for the hair, the body and the feet.
I have dissected frogs and cats for educational purposes, and it amuses me how life can really be complicated (with all the systems and organs in the body working).
I'm a frustrated photographer especially when it comes to nature photography. I guess my exposure to BS Biology and fieldworks awakened my sense of being a naturalist.
I can sing in low or high tones(but not the highest tones made by sopranos as in the highest ever! LOL) When the choir needs a bass or a tenor, I can sing their parts. I'm an Alto by the way 😀
I've tried gun-shooting during my highschool years for ACP training and it was really fun! I thought it was a good stress reliever. 🙂
I can stay all day staring at the computer and of course do something to pass time. HAHA!
So there. 🙂 Now I'm tagging Lianna, Gia, Alyanna, Noemi, Krizelle, Chi, Venus, Dueny, Clint, and Ren.
If you think your friends would like this too, I'd love you to share it! Thanks!♥