If you think your friends would like this too, I'd love you to share it! Thanks!♥
REALITY — I guess this is that one word that worries me a lot. 🙂 It's vague in the sense that life is very much a game. You get to be happy for a moment, then all of a sudden you'd be under the rain. You think you are "getting there", being successful and all… but then you realize it's only a pinch of what you can really get from this world. You get to fight in a battle thinking that you are prepared enough to face everything, then you get stabbed in the back without you knowing. No warning signs; and I guess that is something about reality that we can't totally erase. However, I know all of us have wished to at least escape reality for a moment. We have our ways on doing it and for me, that is when I watch Asian Dramas. 🙂
It really helps a lot especially when I need encouraging words of wisdom about life or scenes that I know I can relate my life with. Well, there are also those times I'd just love to get all giddy and smittened! 😀 I've talked about how I couldn't resist a day without watching even a single episode of a drama, right? Though I want to share it all, I bet this online diary would eventually be a review blog once I do that, so I'm "controlling" myself not to get into reviewing 'em. 😀 But then again IMHO, Jdoramas are really on top of the list when it comes to learning life principles or even re-learning them. 🙂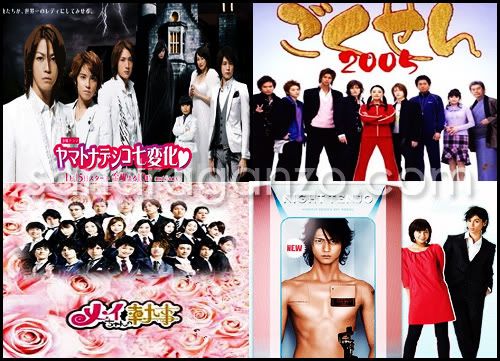 Maybe some of you may disagree with me about this "escaping reality" thing, because I honestly sometimes would wish I didn't get this far in making too much escape from the real world. Sometimes we people can get really attached to the fake worlds we make that there's a tendency not to decipher which world is which anymore. I'm guilty of that! 😀 But I regret nothing… because for me, it's part of molding myself.
So I always have that reality check in my system, so not to confuse myself of where I am now. 🙂 I know in myself I've changed alot. I am influenced by the society I am in and my addiction to this world of Asian TV Shows. 😀 Whatever words I learn either from this society or from the shows I watch that in my opinion are worthy of learning, I adapt. I carry them over as life principles in the end. 🙂
I'm not that grade school Sandra anymore who had this all goody-goody image nor that person who's gotten high grades and all when I was in high school. I've grown to expect not only the best but also the worst things that can come to my life. Although in truth, no one can really escape reality, of course there would be those times that we can't really help but make a world out of our ideals.
But how much we try to get away, in the end we'll come to a realization that there's no such thing as a real escape from it. We can only face life for real and be ready for what may come. Although there is no assurance of being successful in the end, at least we can say we did something! 🙂
So how about you? What's your way of "escaping" reality?
If you think your friends would like this too, I'd love you to share it! Thanks!♥