If you think your friends would like this too, I'd love you to share it! Thanks!♥
… is about RECONNECTING WITH PEOPLE.
After 3 years in BS Biology with in-between summers being occupied by required courses, I finally had a taste of vacation.
Two months away from plant & animal specimen, scientific journals, laboratory works and caffeine overload. Though some of my classmates enrolled for a few slots this summer saying that they wanted a lighter load this coming schoolyear 2012-2013, I refused to do the same.
I CAN'T BREATHE…
…I said to myself.
Mind supersaturation is not my specialty! I knew my mind would explode if I won't stop even for a while. Weighing things out, I'd rather spend my summer time with people, keeping our relationships fresh and vital, than with books that I've been with almost everyday of my life for the past 3 years. I have not missed any requirements in the past, hence I believe I deserve a 2-month break! 🙂
A couple of my relatives came back home. Family gatherings were here and there. There was always something to look forward to~~
Midnight Mercatto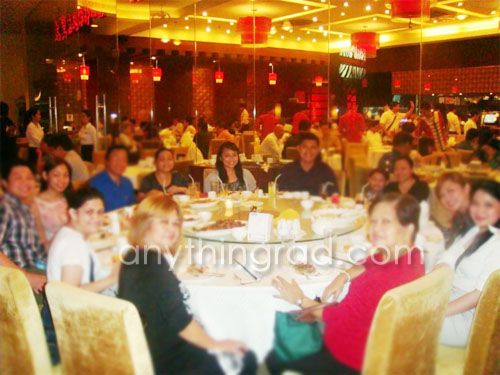 Resorts World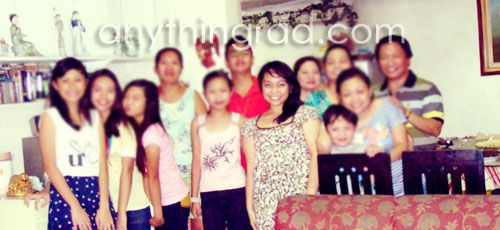 My Birthday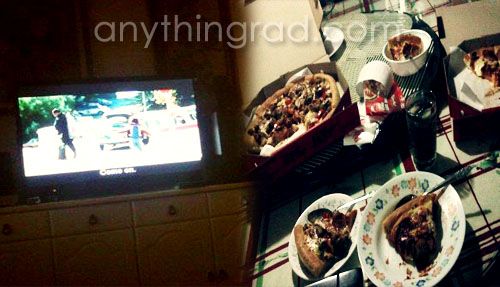 Movie Marathon w/ Cousins At Home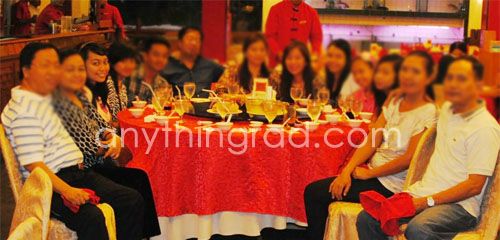 Shangri La Restaurant

And a whole lot more. Keeping in touch with my nuclear and extended families are what I like best when relatives come home from abroad. The last gathering I had was with my cousins. We went to Gerardo's in Panay Avenue to just chillax. We also had a few drinks.

I bonded with Montessorians almost everyday of my summer vacation! We tweet, text, FB-Message all day long! We can even do all 3 simultaneously!! More so, we hang out almost every other day~~ Sweet life!
Who wouldn't be soooo close as this when we had been classmates since our kindergarten days? I had studied in Maria Montessori School of QC from 1995 to 2009. I'm lucky enough to have classmates who also were that loyal to the school! LOL~ Here are some pictures.
Roadtrip ; Starbucks; WildLife Park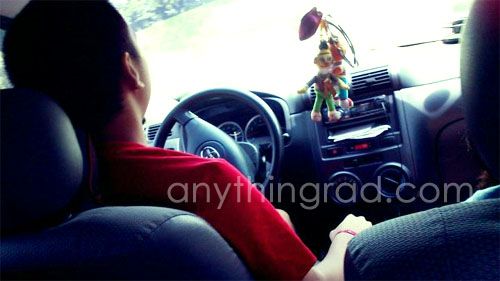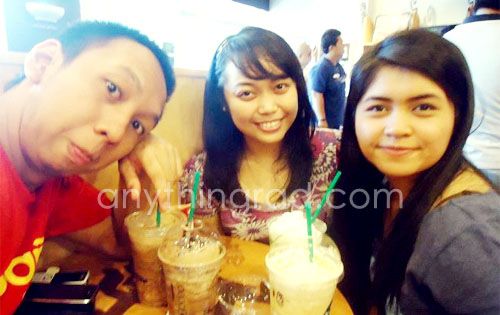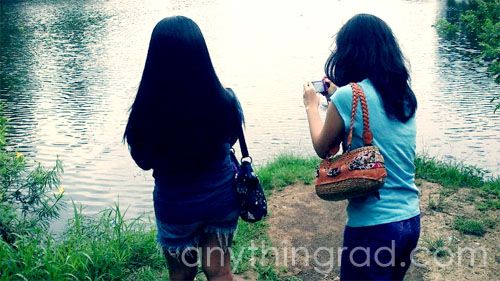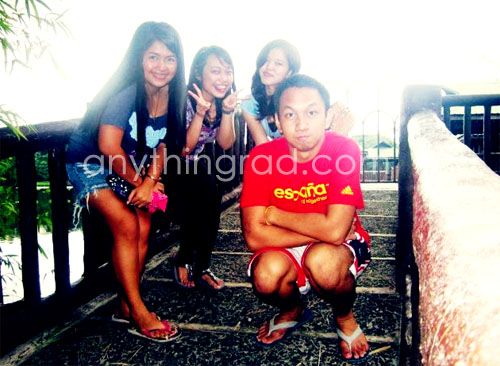 Feeling-Kids at Taguig!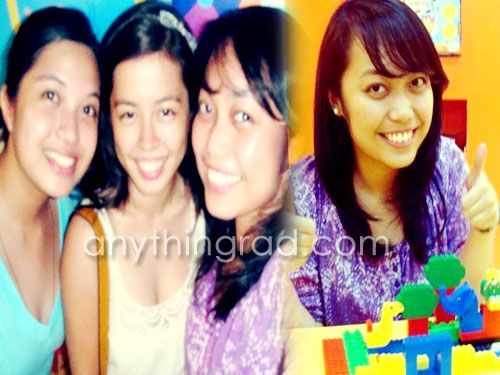 JADS Reunion!~ They are my girl-friends since 6th Grade! I love these girls soo much!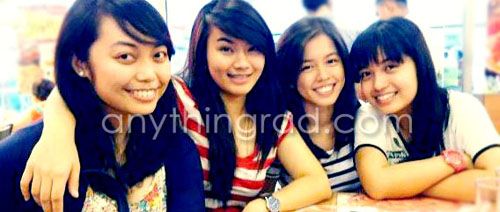 MMSQC Batch 2009 Reunion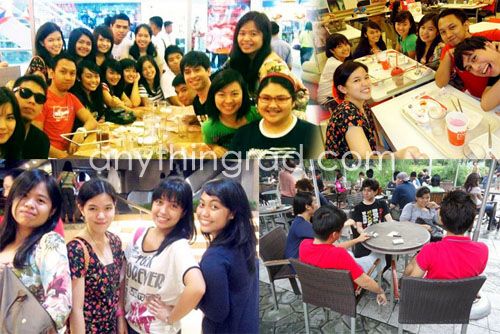 After the hang-outs, there was no night nor day that we did not text/tweet one another. That's how deprived we were before of communication~ College has changed us so much when it comes to what we consider as priority.We get to be busy in school that time is already passing by without us knowing.
Here comes the schoolyear again. We may not have the time to contact one another like we used to do just this summer especially coz most of us are 'graduating students',nonetheless, it doesn't change a thing or two in our friendship. We'll always wait for the right time to bond again~♥ I'm grateful for having a bunch of friends like them! 🙂 They keep me sane.
I visited my UPM Blockmates even if I was away from the University! Of course, I also miss them! Here's a bunch of friends who can talk anything under the sun. Our talks range from the most obscure topic to anything scientific! Bright minds are ♥ They have been my companions ever since I entered a new phase that is college and I have shared quite a lot of memories with them.
With them, I realized that YOLO!! So do rebel sometimes! ;)) I will never forget our trips down the South! =)) And the times when we go home late… super late! Through thick and thin, we make powerpoint presentations, we make our almost-weekly scientific reports, we dissect specimen, we culture microorganisms, we study for finals, and we… CRAM A LOT. :)) The last thing I guess is the most exciting part!! :))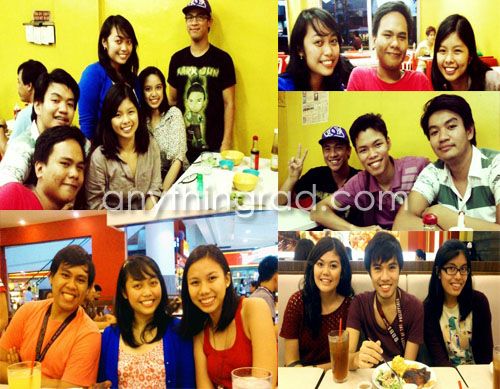 I met Bloggers!~ Just yesterday, I met three blogfriends in Trinoma — Mel, Clint, and Mei. That was my very first bloggers meet-up & I enjoyed it! We were like resto-hopping that time! :)) Mel & I met at CoffeeBean first while waiting for the other 2… We roamed around Debenhams then finally met Mei & Clint. We had drinks at La Mesa Grill and had a chat about the right time to love CHOS! Yes… bloggers can click in an instant!! :))
Then we ate dinner at Bon Chon. We were having a turmoil on what to order though LOL. Clint was the one who ordered everything =)) Mel had this idea of making our names using the chicken bone left-overs. Clint's pic is "DRU" Three-letter words only!! Although it should be 'Drew' =)) Then we headed to Jack's Loft~ Two guys joined the picture over there tho~ Jordan (in grey, standing) and David (in blue, sitting)~ They are Montessorians/my HS Classmates as well who happened to pass by Jack's Loft~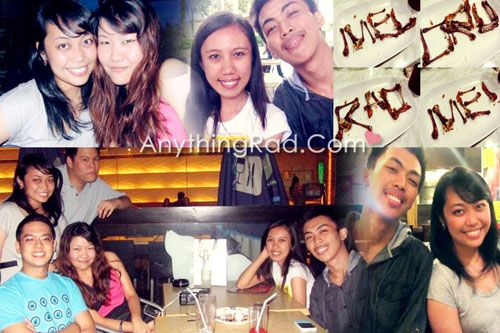 Reconnecting with People… I did this because I know that after quite some time, life will practically just pass me by. I might miss the most important social gatherings or even not have a full grasp of my time. I will miss social interaction at its best! I will miss just being a bummer. I know that will happen sooner or later, coz after my pre-med course, a long journey will still be ahead of me~ I pledge to become a doctor, and it's no way an easy path. Soon, I need to balance it all… 🙂
But for now, I'm enjoying life as it is! Thank you for making my summer a BLAST!
If you think your friends would like this too, I'd love you to share it! Thanks!♥