If you think your friends would like this too, I'd love you to share it! Thanks!♥
I had my 1st day of classes yesterday. I only have 1 subject on Mondays which starts at 9AM and ends at 10. Since I don't want to get stressed out just because of any heavy traffic along Quezon Ave., I decided to leave the house early. Early like 6AM. :)) I arrived school at 7:10AM.
Yesterday was one of those typical first days in school.
I have this 2 types of "Typical First Day", you know.
Set 1 Typical is when we wait for our professor to show up, then prof would give the course syllabus, orient us with the grading system, give book references to be read and then dismiss.
Set 2 Typical, on the other hand, is when we wait for our professor to show up, then as time ticks we wait for the free-cut period which is 1/3 of the class hours but heck this Monday class we enrolled for is holy good for an hour so why not wait for the professor to show up til the last minute, but heaven would fail us coz no professor would show up at the end of the period, thus we wasted time supposedly used for learning lol.
Set 2 won! :))
I had lunch at Starbucks afterwards. Since I'm being a loner that time, I decided to just install
Instagram
on my Android phone and add friends on the list~ My username is
vainroxy
. Here was my 1st photo!
Roasted Chicken Pesto and Shiitake Mushroom Grilled Sandwich…
looked and tasted oh-so yummy~♥
On another note, I can't help but get bored last night… my sister was using the computer, my nephew at the age of 4 was playing the iPad, and apparently there were no good shows on TV… so I opted to just open my make-up kit!! LOL.
Here's a monotone blue smokey eye make-up I ended up with. FYI, monotone is not really black and white but it's dark and light… so for this eye make-up I only used one color which is blue and applied it on my eye making a gradient from dark to light.
Here's the picture from the webcam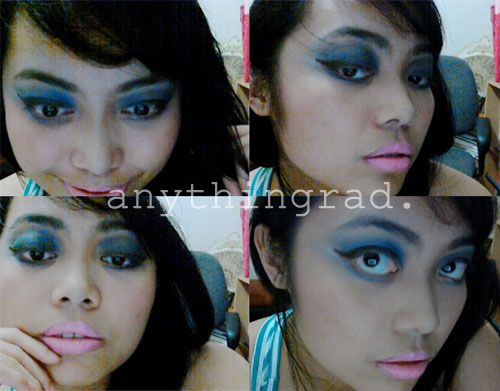 And on my phone's camera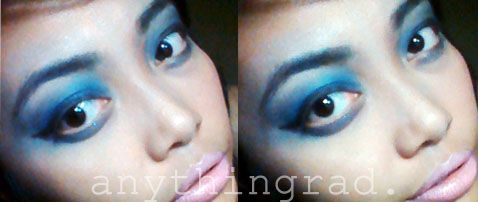 So there! Til next time.♥
If you think your friends would like this too, I'd love you to share it! Thanks!♥