If you think your friends would like this too, I'd love you to share it! Thanks!♥
I planned to shop today, so after attending Mass I went to the mall right away. First stop was phone accessories! New sem; New look for phone lah~! :)) So, I went to a lot of techshops to search for the right case and accessory. While browsing, this pretty flower caught my attention!
I recently finished watching Rooftop Prince, a Korean drama about a Crown Prince (Choh Ha) who transported 300 years into the future and would arrive in the 21st century Seoul with his 3 subordinates. In the present day Seoul, the Crown Prince would meet Se-Na who resembled the deceased Crown Princess. This K-Drama also has featured a certain flower called Bu Yong or Lotus which has a very important role in the story. You'd know if you'll watch it! Give it a try! 😉
Much of a hang-over, the flower accessory reminded me of the K-drama's amazing storyline. The accessory's not really a lotus but then again, it reminded me of the drama. :)) I get to be attached with stories I like, so yea. Here's the phone's new look! I also bought a white casing to replace the pink one I had before.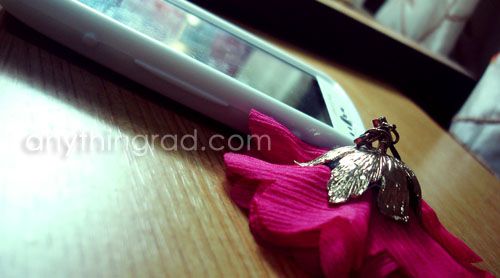 At the back, I placed a sticker of a crown. *cough*Crown Princess*cough* Yes, Overly Attached Asian Drama Watcher over here! LMAO (Trivia: Watching Asian Dramas is my pasttime. Evidence is here).
On another note, I bought new coats & tops too. Well, I don't really plan to wear them in school coz I have a separate wardrobe for that which includes only shirts and leggings or maong pants. Pretty simple attire for school, yes. I don't want to dress-to-kill in a place that goes by the line acads-that-kill LOL.
If you think your friends would like this too, I'd love you to share it! Thanks!♥