If you think your friends would like this too, I'd love you to share it! Thanks!♥
This is one of those days when weather makes you lie down, get a blanket and be sound with the bed because of coziness. I happened to be one of the weather's victim, hence the not so productive day. :")) I planned to make this day a rest day, so I neglected acads and searched for a new Asian Drama to get addicted with.
I gave Me Too, Flower! Korean Drama a shot and it didn't disappoint me. I'm on my 3rd episode already and I'm definitely hooked by now. The first 3 episodes were really funny, though the flow of the story is pretty similar to your typical rom-com drama. Nevertheless, what made me decide to go on with it is the lightness of the story and the fresh faces of the cast. In this very stressful situation that I am currently in (graduating student and thesis that makes me formidable at the moment), all I can do is watch something that can make me feel good. 😀
While watching, I made myself a Swiss Miss Dark Chocolate Sensation drink.♥
It tastes like
the tablea we buy during Yuletide Season. I like this variant more than the original Swiss Miss recipe because it's not too sweet. This contains more cocoa; nonfat milk was also used which makes it a better choice. Studies have shown that dark chocolate is beneficial for health, especially in reducing risk of cardiovascular-related diseases. It did not state the cocoa percentage per pack, but relatively this is a better drink than those with milk chocolate in it.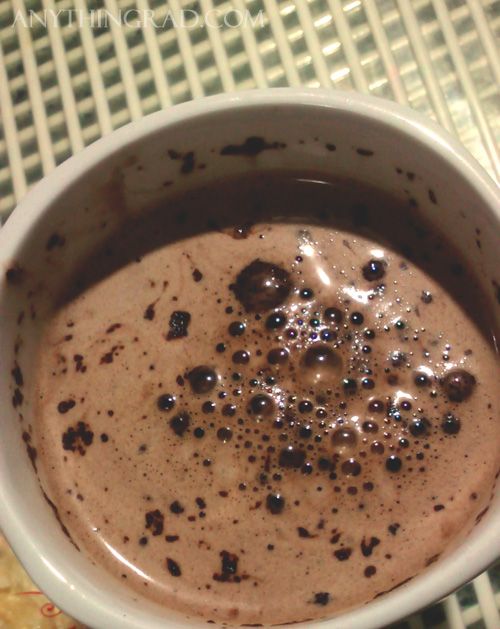 The bubbles caught my attention after making the drink. They say when bubbles amass in the center, you'll have a sunny day ahead. If, however, bubbles accumulate at the sides, it's more likely that it would rain (Zhang, 2012). I guess the weather will be better in the coming days. 🙂
P.S. If you have pure cocoa liquor, I suggest you to use that to make your own choco drink. It contains no sugar at all (unless you put a spoonful or two of course), hence a really great drink with even more benefits for the heart. The purer, the better. 🙂
If you think your friends would like this too, I'd love you to share it! Thanks!♥