If you think your friends would like this too, I'd love you to share it! Thanks!♥
I introduce you to a place you've never been to before if you're not from the same institution as I am – The Extension Library. Extension since service extends more than that of the Main Library, that is from the usual 7AM-6PM to the extended service of 7AM-8PM. It sometimes go beyond 8 during examination weeks. Kind of what I call my go-to place when I have to review or cram minutes before exam. :)) Some do opt to go to coffee shops to study, but distractions are just a lot in there IMO. I really don't know why I bother sharing this to y'all. It might be how I see the artistry in this artsy-fartsy photo I took months ago, LOL! or rather because I was MIA in the blogging world too much that I miss sharing AnythingRad with everyone! Hihi.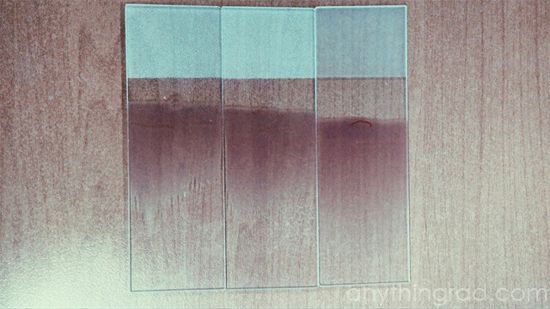 So I had 7 subjects for the 1st semester, and a freaking 9 for 2nd semester. I became a SuperWoman for roughly 10 months without any social life aside from the life I had with my books and handouts with my Bestie Coffee! Being a biologist way back, I wasn't really exposed to smearing blood onto slides, doing venepuncture and all that. So, all these techniques were new to me until I became knowledgeable of them this schoolyear. 🙂 Others may find these easy, but I guess we all do go through things differently, Haha! So, yay! Above is a photo of the 3 blood smears I made for our practicals almost a month ago. This has got to be another extension of knowledge I got in Sophomore year.
One may be smeared by countless challenges along the way; but indeed, one will be smeared in the most beautiful and most fulfilling way in life. To a better us!♥
If there is one thing that kept my soul on fire, it is LAMP – the Loyal Alliance of Medical Professionals. I joined this organization in Frosh Year to become a volunteer for charity. One of the most memorable events I was in was the annual Yuletide Season gift-giving which was held in FEU-NRMF Medical Center Child Health Ward.
We sang Christmas songs and gave gifts to the children, hoping and praying that they may recover soon from their illness. It was a fruitful event to be shared with the kids! 🙂 Definitely, an extension of the soul! 🙂
My LAMP Family
If you think your friends would like this too, I'd love you to share it! Thanks!♥