If you think your friends would like this too, I'd love you to share it! Thanks!♥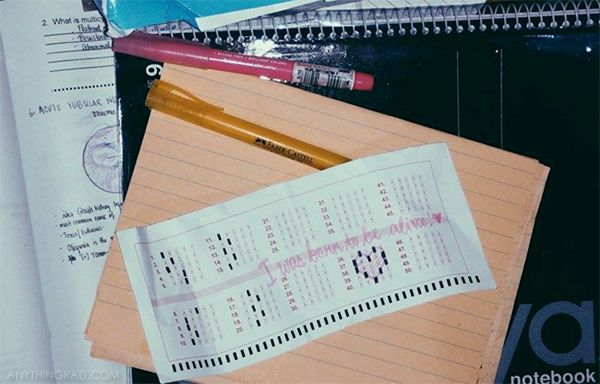 I found myself looking at this piece of scantron paper last night. This was for a shifting exam I had a month ago. The first 20 numbers correspond to a set of answers I had for that shifting. My hands can't be helped from scribbling onto it like it's some kind of freedom wall. Scribbled down a mantra to remind myself that life is not all about burning 'brows and madness. We get to be preoccupied by stress and stress alone that we tend to forget to live the life we would love to have and be happy about.
I started catching up with one of my favorite baking showdown shows last night, the Cupcake Wars. That show is oozing with all kinds of ganache, spices, and cake base that I get to be cephalically hungry every time I watch an episode. On another note, I find calligraphy art quite interesting. Now where do I buy that calligraphy pen?
If you think your friends would like this too, I'd love you to share it! Thanks!♥