If you think your friends would like this too, I'd love you to share it! Thanks!♥
Native trees are those that naturally grow in a certain region such as a habitat type, an island, or a country. They grow and adapt well to the conditions of that defined region thereby making them more productive than exotic trees (i.e., imported/introduced trees). Furthermore, certain animal species that are also native to our country (e.g. Philippine Eagle, Philippine Eagle-Owl, etc) prefer native trees as their home. In this regard, it is encouraged that native trees (e.g. Alibangbang, Kalumpit, Yakal) be planted instead of exotic ones (e.g.Mahogany) to bring back not only our native flora but also the dear homes of our native fauna, thus a more prosperous native biodiversity. ♥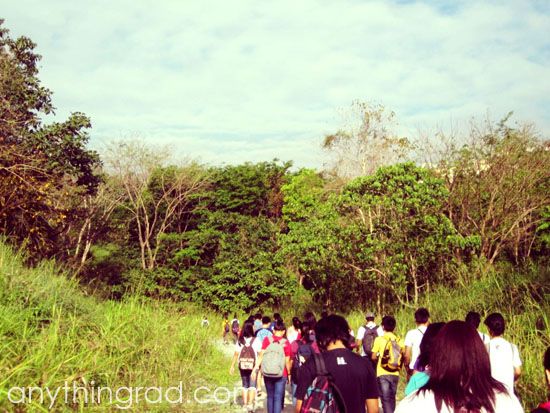 NatSci 5 (Environmental Biology) students on their way to the La Mesa Watershed forest to plant native trees.
Due to vast deforestation in current times, government agencies & organizations such as DENR & Haribon Foundation, respectively, have shown efforts in reviving Philippine forests. This coincides with the National Greening Program spearheaded by President Noynoy Aquino which aims to plant 1.5 billion trees in 1.5 million hectares of land from 2011 to 2016.
Know more about native trees and their importance in sustaining biodiversity! Here's a 6-minute video of our group in Environmental Biology class under Prof. Sedricke Lapuz as we ventured the low-altitude forests of La Mesa Watershed and planted 300 native seedlings of Kalumpit tree with the help of DENR-NCR.
BE PART OF THE GREENER CHANGE. BE PART OF A BETTER FUTURE.
Care For Biodiversity: Planting Our Native Trees from Sandra Ganzo on Vimeo.
If you think your friends would like this too, I'd love you to share it! Thanks!♥