If you think your friends would like this too, I'd love you to share it! Thanks!♥
Superb! One word that, in my opinion, best describes WILLIAM – a rap musical about the English poet and playwright William Shakespeare, directed by Maribel Legarda. It is an original play by PETA which is said to cure students' Shake-fear and turn it into Shakes-peer – a friend to everyone (del Rosario, 2011).
To be honest, I've not yet seen nor had a role (during my high school years) in any Shakespeare plays; Not even the famous Romeo and Juliet or Hamlet. But after watching the show, I was enthused to know more about Shakespeare. The words in his works sure are never-racking, mind-breaking, nose-bleeding and whatnot, but damn, his works were grand! His works ARE grand.
This show has not defeated its purpose, in my case. 😀 Not only did I learn to appreciate the life and works of Shakespeare, but also made me realize how important my life is. How worthy each second of my life is! As he had said:
Let every man be master of his time — William Shakespeare, Macbeth
Being the master and not the slave of time… doing what you can do and not holding back.. having the opportunity to cherish what life can offer when you still have time.. these I learned by watching William. I seldom watch plays, but I'm grateful for watching this one! Definitely a must-see show! Cliché but true. 😉
After the show, I was lucky enough to meet some of the cast: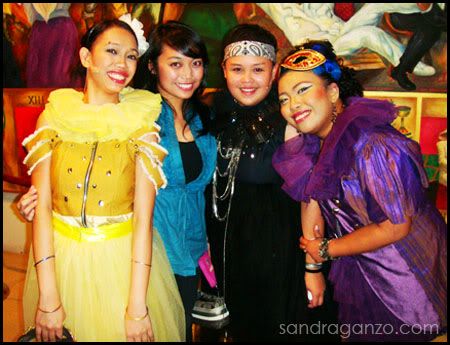 (L-R) Anj Heruela (Estella), Me, Hapster Constantino, Meann Espinosa (Ms. Martinez)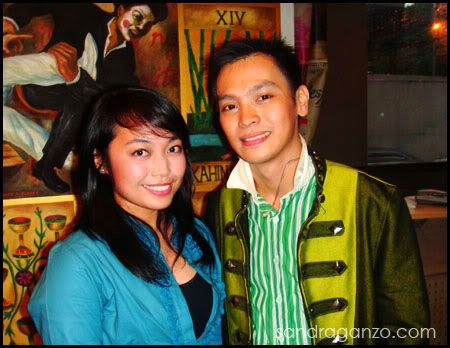 Rico Del Rosario (TJ) and I

And two of my most favorite promising theater actors, Ian Segarra (Erwin) and John Moran (Richard)! I'm really looking forward to see them more in PETA's upcoming projects. 🙂
Somehow, my passion for Performing Arts also has grown by watching William. That passion for singing... dancing.. , so is my budding ardor for theater acting. I am not a professional yet, but I'm hoping that sooner or later, I could try it out! 😉
William play dates are August 14, 19-21, 26-28, September 2-4, 9-11, 16-18, 23-25, 2011 with shows at 10:00 a.m. and 3 p.m. The PETA Theater Center is located at No. 5 Eymard Drive, New Manila, Quezon City. MORE INFO at Broadway World: Philippines
If you think your friends would like this too, I'd love you to share it! Thanks!♥